Touch Textiles Posted on June 09 2023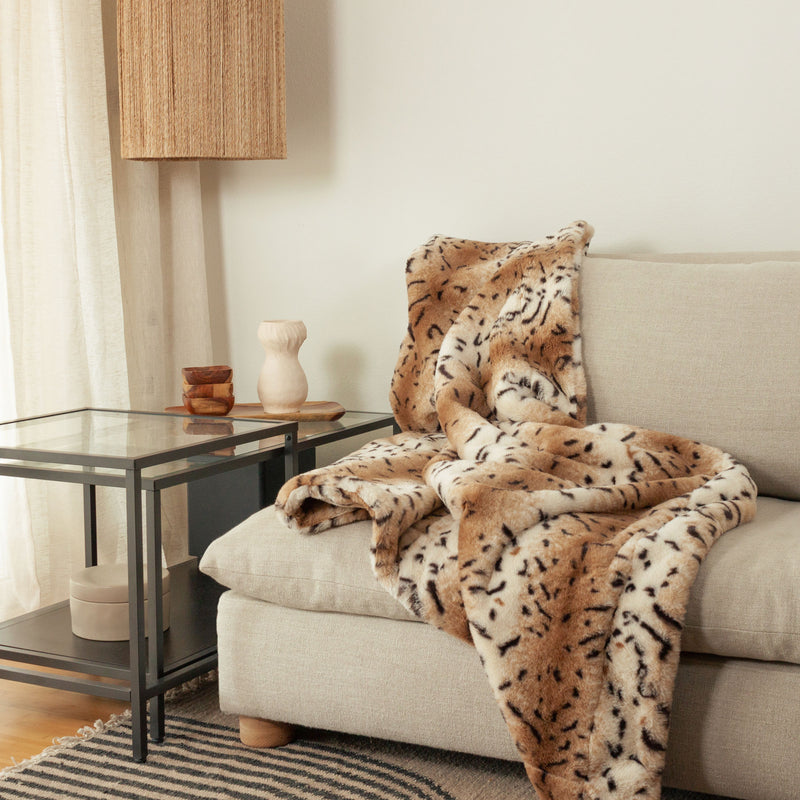 Unleash Your Creativity with Luxurious Minky Fabric
---
Minky fabric has taken the world of sewing and crafting by storm, captivating enthusiasts with its exceptional softness, plush texture, and remarkable versatility. Whether creating cozy blankets, stylish home decor items, adorable plush toys, or fashionable accessories, this fabric offers a touch of luxury that elevates your creations.
Delve into the fascinating realm of Minky fabric, exploring its composition, physical qualities, and diverse projects for which it can be used. Prepare to be inspired as we uncover the secrets of this remarkable fabric in this article.
Understanding Minky Fabric
Minky fabric is typically crafted from polyester, often called "polyester faux fur." This luxurious fabric closely resembles real fur, making it a popular choice for those seeking a cozy and elegant touch. The standout feature of Minky fabric is its exceptional softness and velvety texture, which invites a gentle touch and provides an unparalleled tactile experience. The fabric's plush nature adds a layer of comfort and indulgence to any project.
There are endless creative possibilities based on your preferred color print or pattern. For instance, if you prefer vibrant hues, subtle pastels, or fun and whimsical prints, Minky fabric allows you to express your unique style and design aesthetic in your sewing projects.
Minky Fabric in Sewing and Crafting Projects
Cozy and Comforting Blankets
Minky fabric is renowned for its ability to create irresistibly cozy blankets. The combination of its plush texture and softness makes Minky blankets perfect for snuggling up on chilly evenings or providing comfort to loved ones. From baby blankets to lap blankets and full-sized quilts, Minky fabric adds a touch of luxury and warmth to these cherished creations.
Home Decor Delights
The luxurious appeal of Minky fabric extends to home decor projects, transforming any space into a haven of comfort and elegance. Craft plush pillows and cushion covers using Minky fabric to infuse your living room or bedroom with a sense of indulgence. For example, consider using Minky fabric for a touch of sophistication for curtains, throws, or table runners. The softness and visual allure of Minky fabric make it a wonderful addition to your home decor arsenal.
Adorable Plush Toys and Stuffed Animals
The fabric's cuddly nature, combined with its soft texture, creates an irresistible sensory experience. From huggable teddy bears to whimsical animal-shaped pillows, Minky fabric brings these creations to life with the plush appeal, making them perfect gifts for children and adults alike.
Fashionable Clothing and Accessories
Incorporating Minky fabric into clothing and accessories adds a touch of luxury and comfort to your wardrobe. Wrap yourself in a luxuriously soft Minky fabric scarf during colder seasons, allowing its warmth to envelop you. Consider designing a robe using Minky fabric for a cozy and stylish loungewear option.
Tips and Techniques for Working with Minky Fabric
To ensure successful and seamless creations when working with Minky fabric, consider the following tips and techniques:
Preparing and Cutting Minky Fabric

: Using sharp scissors for cutting is recommended to minimize shedding and maintain the fabric's texture. Opt for a single, smooth cutting motion to achieve clean edges. Avoid stretching the fabric during cutting, as it can lead to distortion.

Sewing and Stitching Minky Fabric

: Adjust your sewing machine to a longer stitch length to prevent puckering when sewing with Minky fabric. Using a ballpoint needle is advisable, as it glides through the fabric smoothly without causing damage. To avoid leaving visible marks, pin the fabric on the seam allowance or use clips to secure it during the sewing process.

Finishing Touches and Care

: For a polished look and to prevent fraying, consider finishing the edges of Minky fabric projects with satin or bias binding.  Also, remember to follow the manufacturer's instructions for washing and drying the fabric to ensure its longevity. Generally, Minky fabric can be machine-washed on a gentle cycle and tumble-dried on low heat.
Elevate Your Sewing Services With Minky Fabric
Unleash your imagination and embark on crafting excellence with Minky fabric. Explore its exceptional softness, breathability, and easy care. This fabric is perfect for creating cozy blankets, stylish home decor, adorable plush toys, and fashionable accessories. With a wide range of colors, prints, and patterns to choose from, let this fabric inspire your creativity and
elevate your crafting projects
to new levels of comfort and elegance.