Touch Textiles Posted on September 08 2023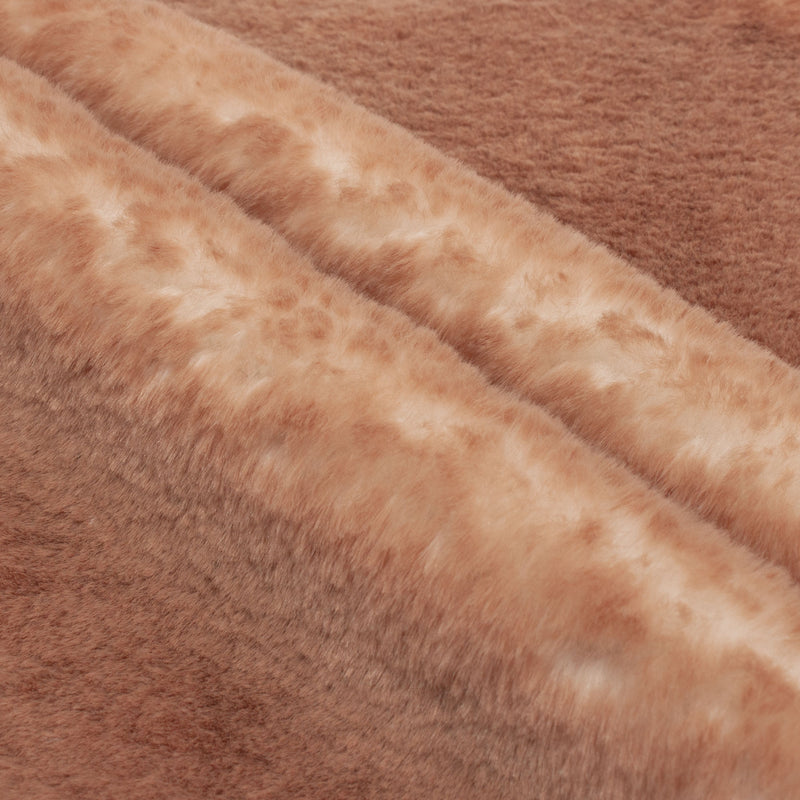 At EZ Fabric Inc., we take pride in offering an exquisite collection of high-quality faux fur fabrics that will immerse you in unparalleled comfort. From silky-soft textures to richly dyed hues, we design our Snuggle fabrics to provide the ultimate coziness for every occasion.
This guide explores our fabrics' visual and weight attributes to help you find the fabric you need.
Visual Attributes
We have a wide range of high-quality faux fur fabrics with varying captivating visual characteristics to suit different preferences. Each fabric has a unique visual appeal, adding depth, texture, and artistic flair to your projects.
Solids
Our single-toned fabrics exude a timeless appeal, making them perfect for various projects, including quilting, throws, home décor, apparel, pet accessories, and more. They include Snuggles like the Four Seasons, Sharpei, and Baby Bunny and Silky Minky like Solid Minky Dot, Solid Silky Minky Smooth, and Solid Silky Minky Smooth 90". They have different textures and come in various colors and weights, so you're sure to find exactly what you're looking for.
Frosted
Our frosted fabrics have a soft, diffused luster that adds a touch of elegance and sophistication to their appearance. They have two colors: the main color at the base of the fibers and a lighter color, usually cream or white, at the tips to add depth and visual interest to any creation. As your move or fold our frosted fabrics, the lighter color subtly peeks through, adding depth and visual interest to the fabric.
Our frosted fabrics include Frosty Snuggle, Frosted Bella Snuggle, Quill Snuggle, and Yuma Snuggle.
Washed
Our washed collection is the opposite of frosted. They have two colors as well, but the main color is at the tip of the fibers, and the lighter color, usually white or cream, is at the base of the fibers. This unique interplay of hues gives them a captivating touch and adds depth and character to your projects. Our washed fabrics also feel and look soft and supple, offering a relaxed and comfortable aesthetic.
Tie-Dye
Our tie-dye Snuggle fabrics have bold and abstract patterns and are ideal for adding an artistic flair to your design. The quirks and variations in patterns can make any project charming and unique.
Our tie-dye collection includes the PomPom Snuggle, a luxurious fabric made by a specialized laser-cut technique. Its dense, lush fibers add a distinctive and eye-catching element to the fabric, making it a desirable choice for those seeking something visually unique and interesting. Others include the Dreamy Bunny Sharpei Snuggle, Jubilee Sharpei Snuggle, and Eclipse Koala Snuggle. You can use them in projects like blankets, throws, home décor, apparel, plush animals, etc.
Embossed
Our embossed Snuggle fabrics have intricate designs that are cut or pressed into the fibers to create a textured surface. It feels luxurious and adds a touch of sophistication to your projects.
The star of our embossed collection is the Bella Snuggle, our best-seller fabric and the perfect basic to include in any sewing project. Available in every color of the rainbow, the Bella Snuggle Other embossed fabrics include the Bella-84" Snuggle, the Joey Snuggle, and the Luxe Snuggle, all with their own unique patterns and textures.
Patterned
You can unleash your creativity with our Patterned Snuggle fabrics. These fabrics feature captivating designs, motifs, and repeated decorative elements printed, or dyed onto the fabric. They offer a wide range of options to suit every style and preference.
Our patterned collection can add visual interest and appeal to your project. They come in various styles, colors, and scales to allow you to find a pattern that suits your taste and complements the aesthetic you desire. You can mix and match different patterns to create interesting combinations.
You can use patterned fabric on clothing accessories and footwear for a bold look. In home décor, you can use them for curtains, upholstery, bedding, and decorative accents to bring character to a space. Our patterned fabrics include the American Leopard Snuggle, the Dusted Appaloosa Snuggle, and the Wolverine Snuggle.
Silky Minky
Silky Minky fabric combines the smoothness and lustrous appearance of silk with the softness and plushness of minky fabric. The result is a luxurious fabric that can be used for luxurious blankets, pajamas, bedding, robes, and apparel. It is incredibly visually appealing and comfortable to touch. It is also lightweight and can regulate temperatures, so you can pair it with our Snuggles.
Our 3mm Silky Minky fabric is available in all colors of the rainbow, so you can find the exact color you need for your project.
Printed Silky Minky
If you love the smoothness and lustrous appearance of the Silky Minky fabric, you might love the printed version. These 2.5mm fabrics are digitally printed in LA, ensuring vibrant designs that cater to any occasion or aesthetic preference.
Weight Attributes
We understand that projects and people have unique requirements. We offer most fabrics with different weight attributes to cater to different needs. They can be lightweight, mediumweight, or heavyweight.
Lightweight fabrics
Our lightweight Snuggle fabrics weigh less than 350 grams per square meter (GSM), offering a breathable and comfortable option. They are ideal for hot sleepers or projects that you desire a lighter touch, like creating pillows, plushies, etc. They provide a cozy feel without being overly heavy, allowing for a pleasant and relaxing experience.
Mediumweight fabrics
Our mediumweight Snuggle fabrics weigh between 350 and 650 GSM. They offer the perfect balance of coziness and versatility, making them ideal for everyday blankets that are warm and comfortable without being overly heavy.
Heavyweight fabrics
Our heavyweight fabrics weigh more than 650 GSM. They are thick, so they are perfect for anxiety-reducing blankets or projects that exude opulence and warmth.
We have the fabric you need
We invite you to immerse yourself in the world of Snuggle fabrics at EZ Fabric Inc., where silky softness, durability, and captivating visual attributes meet a wide range of weights tailored to your needs. We have the fabric you need, whatever you need it for.
The products recommended in this guide are a drop of water in an ocean that is our fabrics at EZ Fabric Inc. Whether you seek a single-toned elegance, dreamy tie-dye patterns, or the coziness of Silky Minky, our collection has it all. Check out our website to discover the full range of Snuggle fabrics and unlock the perfect combination of comfort, style, and luxury for your next project.